Summer Studio Tour >

About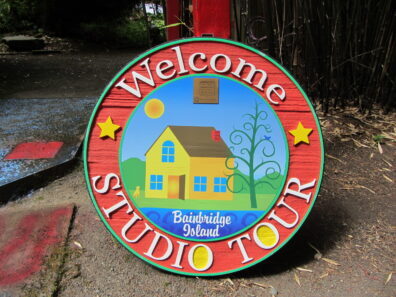 The Bainbridge Island Studio Tour invites you to celebrate the beauty and craftsmanship of local, handmade art. We are a twice-annual, free, self-guided art show on Bainbridge Island, Washington – located in the beautiful Puget Sound, just a 30-minute ferry ride from Seattle.
Surrounded by water and picturesque views, Bainbridge Island is known for quaint shops, restaurants, bed and breakfasts, and an abundance of art and artists. The Studio Tour has enjoyed great success since 1984, and we hope you'll come experience it for yourself soon!
Regional artists jury in to the summer and winter art shows, and sell their work at Island artists' studios and historic community halls. When you visit the studios, you'll see some works in progress, raw materials, tools, and perhaps some inspiration mixed in with a little sawdust.
We're sure you'll enjoy meeting the artists and discussing their work and vision in person. By visiting and shopping at the Tour, you are not only buying hand-crafted works of art, you are also supporting the local economy and helping artists to thrive.