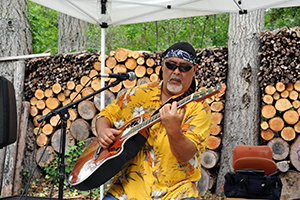 Celebrating our 19th year, the Bainbridge Island Summer Studio Tour is a popular grass-roots art event in local island studios and gardens. We offer space in the artist's gardens where local musicians can share their gift of live music to enhance everyone's experience at the Tour. We expect thousands of patrons to visit the studios over the course of the 3-day weekend. This year, there will be 45 artists in six studios.
The Studio Tour is currently seeking small groups and soloists to sing and play at our six locations during the Tour. Appropriate styles are acoustic, folk, classical, jazz, country, light rock, and easy-going upbeat music that is suitable for all ages. (Please, no lyrics with profanity, or references to drugs, sex, abuse, or violence, this is a family-friendly event!) Professionals and amateurs are both welcome.
Please sign up on the sheets that are linked below – one for each day of the Tour. Musicians are subject to review before the final schedule is set. You will only be contacted if there is a question, or a need for more information. So once you sign up, plan on being at the studio(s) that you chose at the times you've selected.
We encourage you to sign up by August 3rd! Please allow time for travel between locations if you choose more than one on a single day. Sign up for two consecutive time slots if you wish. Tents, shade, and/or chairs will be provided whenever possible.
We thank you in advance for volunteering to share your music with the artists and our patrons. If you have more questions, please contact Tour Manager Dinah Satterwhite by e-mail, info@bistudiotour.com, or phone: 206-842-0504.
If you need to cancel, you cannot do this directly online once you´ve signed up. Please contact us at the above email or phone with the details, and we will take care of it for you.
Locations/Info for Musicians: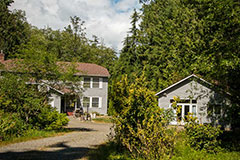 Ferrier Studio
This is a warm and open space that feels like a respite in the protected wetland. Electricity is available, but please bring an extension cord. A tent is provided for shade, in addition to the abundant trees and natural shade. You will be very close to the studio building and artists outside in the yard.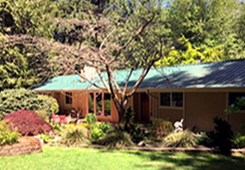 Tartaglia Studio
Danna Tartaglia's home was built in 1973 by her husband who loves blooming trees, shrubs and flowers. So the yard is colorful year-round, and a great source of inspiration. She moved to the island in 2017, after owning a gallery in Ojai, California. Danna loves her painting easel under the skylight in the den, and view to the backyard.
Dancing Spirit Studio
Danna's eclectic garden has a semi-shaded grassy area for musicians. No tent. Electricity is available, but bring a long extension cord. You will be very close to the artists.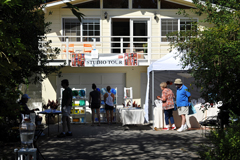 Sylvia Carlton's Studio
This mid-century modern house is near the heart of Winslow, across from the High School. Sylvia's painting studio is above the garage. Musicians play in the yard, among a variety of plants and a scalloped edged lawn. No tent. Electricity is available, but bring an extension cord. You will be very close to the artists.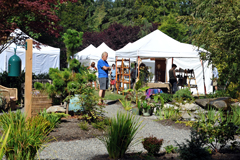 Weissman Studio
Barbara's garden is a lovely flat landscape including scalloped edge flower beds, a meandering stream and bridge. There is a nice grassy area for the artists and musicians. No tent. Electricity is available, but bring a long extension cord. You will be very close to the artists.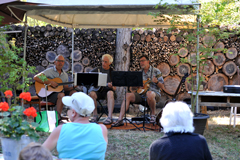 Hidden Cove Pottery
Mike and Donna's studio and garden provides space for the artists both inside their studio and outside on the grass. A 10'x10′ open canopy tent is set up for musicians, and electricity is nearby. There is a picnic bench in front of the tent, providing a place for visitors to enjoy the music and rest for a while.