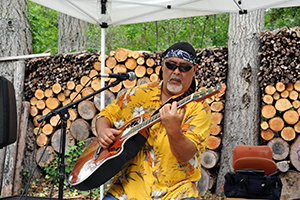 Celebrating our 21st year, the Bainbridge Island Summer Studio Tour is a popular grass-roots art event held in island studios and gardens. With lovely space in the artist's gardens, musicians can share their gift of live music with patrons who visit the studios over the 3-day weekend.This year, there will be 36 artists in five studios.
The Studio Tour is currently seeking small groups and soloists to sing and play at our five locations during the Tour. Appropriate styles are acoustic, folk, classical, jazz, country, light rock, and easy-going upbeat music that is suitable for all ages. (Please, no lyrics with profanity, or references to drugs, sex, abuse, or violence, this is a family-friendly event!) Professionals and amateurs are both welcome.
Please sign up on the sheets that are linked below – one for each day of the Tour. Musicians are subject to review before the final schedule is set. You will only be contacted if there is a question, or a need for more information. So once you sign up, plan on being at the studio(s) that you chose at the times you've selected.
We encourage you to sign up by August 3rd! Please allow time for travel between locations if you choose more than one on a single day. Sign up for two consecutive time slots if you wish. Tents, shade, and/or chairs will be provided whenever possible. You will typically be very close to the artists, so please be courteous and adjust your volume so everyone can talk to the artists and enjoy your music at the same time. Bring an extension cord if you need access to electricity. Most studios can accommodate you.
We thank you in advance for volunteering to share your music with the artists and our patrons. If you have more questions, please contact Tour Manager Dinah Satterwhite by e-mail, info@bistudiotour.com, or phone: 206-842-0504.
If you need to cancel, you cannot do this directly online once you´ve signed up. Please contact us at the above email or phone with the details, and we will take care of it for you.
Locations/Info for Musicians: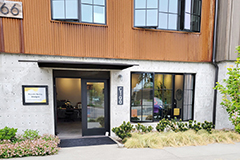 Peaceful Spring Designs Studio
Right next to Lynwood Center, this quaint condo complex is where Theresa Killgore's home and jewelry studio is located. With a modern approach and concrete pads surrounded by landscaping and ample parking, the artists and musicians will be a wonderful and organic treat for visitors.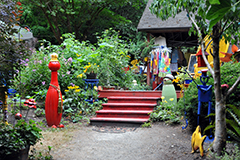 Dancing Spirit Studio
Danna's eclectic garden is a wonderland filled with garden art, a fanciful swing, a child's play area, flowers galore, and watch out for that chandelier! You might also find painted ferns and glass beads along the pathways. She has a semi-shaded grassy area for musicians.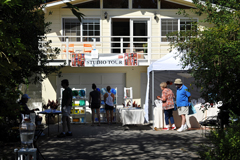 Sylvia Carlton's Studio
This mid-century modern house is near the heart of Winslow, across from the High School. Sylvia's painting studio is above the garage. Musicians play in the yard, among a variety of plants and a scalloped edged lawn.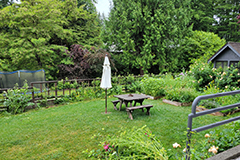 Danis Morgan's Studio
This home on the somewhat busy corner of Grow Avenue and Winslow Way, is just a block from the bustling downtown of Bainbridge, and is an easy walk from the ferry. There is a garden "level" below the house, with a chicken coop and flowers, and another "level" beyond that with flat land and grassy gravel where 6 of the 8 artists will be.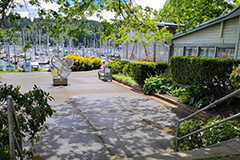 B. Home Art & Design
Located at the south end of Madison Avenue is a lovely retail spot on the Eagle Harbor Marina. Betsy Stephens' studio is a large waterfront loft with a killer view above Bainbridge Thai. Artist booths will be mostly outside in the courtyard, and along the wide public walkway under dappled shade alongside Doc's Marina Grill just steps from the water. Musicians will have ample space there, and plenty of passersby.