For Artists – Winter Tour 2020 Information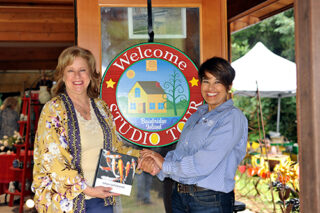 The 2020 Winter Tour will be a virtual event, not a physical event in studios and community halls like in past years (due to the rise in COVID cases in our area).
We are planning ahead, and have a wonderful event planned for you and our customers. The Tour will be promoted as an event throughout December. There will be significant advertising through traditional methods, social media, and some new creative ways! We are very excited about this new format, and have researched other similar events to see what looks good (or not), and have designed some of our own features.
Artists will pay a reduced fee as compared to previous Tours: $125 for the Winter Tour. $25 is the jury fee if you are a new artist, or are due to jury.
There is still no commission for sales.
2020 Calendar
Feb 1
Applications available (website and BI Chamber of Commerce)
March 15
Early Bird deadline (Summer and Winter Tours)
May 15
Applications due: Summer and/or Winter Tour – deadline has passed
May 23
Jury: Summer Tour
May 7
Juried artists notified
Aug 7-9
Summer Studio Tour

– a Virtual Event

!
Aug 22
Applications due: Winter Tour- deadline has passed
Sep 5
Jury: Winter Tour- deadline has passed
Sep 10
Winter Juried artists notified
Dec 1-31
Winter Studio Tour

– now a

Virtual Event!
Jan 31, 2021
Annual Membership Meeting
Thank you for your interest in the Bainbridge Island Studio Tour. Applications to participate are open to Bainbridge Island (BI) residents and non-island residents as detailed on the application form and later on this page. As a juried venue of artwork, we look for professional work, designed and crafted by the artist, with original designs, and quality craftsmanship. Artists do not need to have their own studio to participate.
The application form for the 2020 Winter Tour is available below. When applying to the Studio Tour, you can apply electronically, by snail mail, or a combination of both. A hard copy of the application is always available at the Bainbridge Island Chamber of Commerce, or one can be mailed to you.
(Although the deadline has passed for applications this year, feel free to look at the application form for details and information.)
Click below for tips on taking photos and writing your Bio for the Tour Application.

As "members" of the Studio Tour, we support each other and work together to organize and operate the event. While a paid Tour Manager and a Board of four artists make the day-to-day decisions regarding the tours, participating artists also contribute time and energy to make each Tour a success. Each artist chooses a small volunteer job such as distributing posters around town, or setting up road signs near their studio. We also contribute to a local charity through a group donation, which is given by the artists as a 1% optional donation after each Tour.
Summer: The "Summer Studio Tour" is a festive outdoor event held the second weekend in August. Local artists open their studios while other artists join them in garden settings with live music to create an inviting marketplace of fine art. Bainbridge Island and off-island visitors anticipate this enjoyable event, which has been held since 2001, and attendance is growing. Limited indoor display space may be available.
Winter: The annual Bainbridge Island "Winter Studio Tour & Sale" is the original Studio Tour and has been a mainstay since 1984. Held on the first weekend in December, it offers an opportunity to purchase fine arts and crafts for the holidays and is a well-established, well-attended tradition. The Winter Tour is held in both artist's studios and community halls.
ORIGINAL WORK, JURY PROCESS
As a juried venue of artwork, we look for professional work, designed and crafted by the artist, with original designs, and quality craftsmanship. A jury process reviews the work of all potential artists. All current artists must re-jury every three years. If a current artist's work or media changes dramatically, they too will need to be re-juried. Artwork mass-produced with the use of commercial kits or molds, pre-fabricated forms, or imported items are not eligible.
There is currently no booth sharing, and you are expected to be present at your booth throughout the show.
Off-island artists are welcome to apply – please see our application form for residency notes. You do not need to own a studio, or live on the island to participate. Active off-island participants prior to January 2012 are grandfathered in and may continue to participate and jury like any artist regardless of residency, so long as they remain active in the Tour at least once every two years.