Featured Artist – Theresa Killgore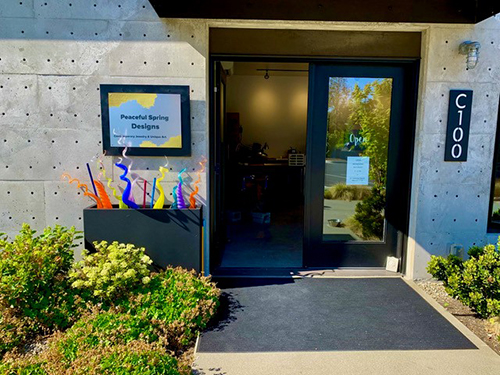 Q: Tell us a little about your art.
A: I make jewelry – necklaces, earrings, bracelets, and brooches.  The designs can be "serious" or "fun."  My "serious" works contain sterling silver, gold, and semi-precious stones such as peridot, amethyst, citrine, opal, etc.  The "fun" designs can be made of anything that catches my eye – rubber erasers, buttons, bark mulch, eyeglass cleaning cloths, a breath mint tin.  Yes, I've used all of these items.  And the pieces have sold!  It seems like there are fun-loving, quirky people out there like me.
Q:

Why did you start doing what you do?
A:  I sold my last oil/natural gas exploration and production company in Tulsa Oklahoma in July 1999 and retired as a petroleum engineer. When I was a kid, I'd make my parents stop at every tourist trap, when we were on vacations. I had to see the polished rocks!
I'd never had a hobby during my career. Too busy! Rocks, engineering – Why not try metalsmith? I took a 4-hours/week semester course in metalsmithing and fell in love with making jewelry. Plus, my husband says it keeps me off the streets and out of the pool halls!
Q:

What makes you different from others in your field.
A:  I don't have a style.  From looking at one piece to the next, you wouldn't know the same person did it.  Everything I do is one-of-a-kind.  If you wear one of my pieces, you won't "see yourself" coming down the street the opposite way.  Everything is different.  Plus, the nerd with the physics, math, engineering background in me kicks in with my logic, designs and structures.
Q:  What has changed since you've first started?
A:  I solder a lot better!
Q:

Where would you like to go next?
A:  Short-term – Take a nap.  Longer-term -Switzerland.  I figured I was supposed to answer in terms of my jewelry work.  But I'm just where I want to be with that.  I'm happy!