Featured Artist – Page Gehrke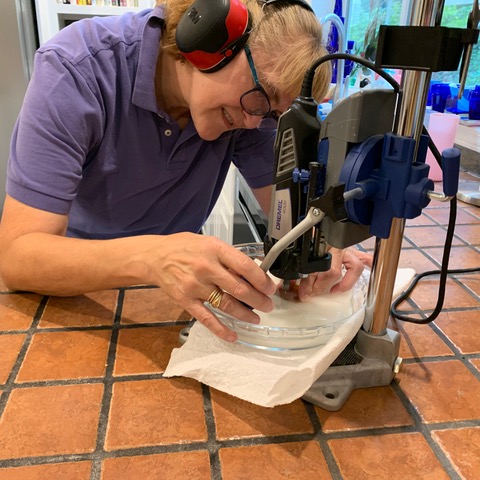 Q: Tell us a little about your art.
A: My jewelry and art are heavily influenced by the sea; with either found sea elements, such as sea glass, sea pottery & rocks, and /or sea colors and textures. I love that I'm recycling trash in a way that makes the trash a new, exciting and beautiful item with my creative effort. Plus, I'm cleaning up the beach one walk at a time.
Q:

What makes you different from others in your field.
A:  Unlike many sea glass artists, I actually collect my own sea glass, so I know where each piece comes from. Then I clean it, store it, drill and/or grind it, and create a one of a kind pieces of art. Each piece is handled by me at least half a dozen times, and from handling and seeing it I get an idea of what it is to become.
I also make many of my own fine silver and gold-filled findings by shaping and/or fusing and hammering them into bars, rings, swirls or hearts.
Q:  Where would you like to go next?
A:  In the future, I will be taking silversmithing classes to expand my jewelry making abilities. Plus, I will be purchasing a precious metal clay kiln, so that I can make silver pieces based on actual sea textures like kelp and wood, to go with the sea glass. In addition, I will use the PMC kiln to create logo pieces as part of my branding effort.