Featured Artist – Michele Van Derrick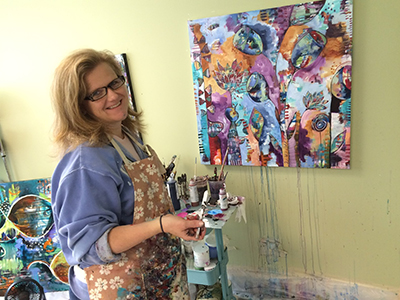 Q: Why did you start doing what you do?
A: I took an art class in college and it was the first time I had ever tried to create something abstract. I really loved the freedom of it. Over the years I have dabbled with lots of mediums and I keep coming back to paint. Once I really understood that there are no rules to making art it became an exciting exploration of whatever inspired me at the moment.
Q:

What are your biggest influences?
A:  Time in nature is without a doubt one of the biggest influences on my work. I am also very moved by color combinations and words that resonate with what I'm going through at the time. However, my greatest inspiration comes when traveling. There is something so special in experiencing other cultures and languages. I am happiest sitting in a town square just watching the people walk by. I love to take in their language, culture, and style, and find a way to translate that to the canvas.
Q:

What has changed since you've first started?
A:  For a while my work really centered around color and abstract imagery. Later, I started focusing on small pieces with inspiring words in an effort to remind a younger audience of their own magic. Currently I'm feeling moved to work more with mixed media in my abstract work and play with different substrates and mediums.
Q:  What are your biggest influences?
A:  Many artists, art styles, and art teachers have influenced my work. I have a fondness for Van Gogh, John Singer Sargent, Sergei Bongart, and many current- day artists. I use Instagram to follow artists from all over the world, the talent and generosity of spirit is really amazing. There is so much inspiration.
Q:  Tell us something most people don't know about your process.
A:  I only get the clear idea of what I want to create once I'm well into the painting. There are a lot of layers in my work and none of them are planned. I can take an idea to the point where it's really close to feeling done, but if I can't get it there I will often make a big change. Since there's no turning back, I end up with something altogether different.
Q:  Where would you like to go next?
A:  I would like for my work to be more expressive of today's social climate. Personally, I'm trying to better understand what my role in it is and how can I be more of an advocate. I know that art is a medium that can help bring to light voices that have been suppressed.