Featured Artist – Leslie K. Newman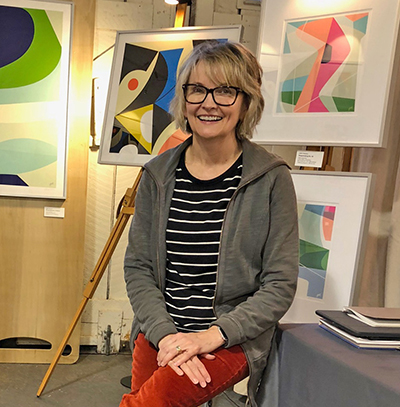 Q: Tell us a little about your art.
A: I create sophisticated abstract artwork that adds color and energy to interior spaces. I have two series: Shapemaking featuring clean, bold, flat shapes, and expressive abstract paintings that are richly layered with energetic marks. Both are created using digital tools and offered in limited edition archival prints. Abstract art stirs something indescribable and can be enjoyed on multiple levels.
Q:

Why did you start doing what you do?
A:  In 2017 I took on a 100 Day Art making challenge on Instagram. I created and posted 100 pieces in 100 days. Through sharing my work online I was invited to exhibit in a group show. This kickstarted my abstract art journey. The positive response to my new work inspired me to start showing in art fairs, exhibits and online. The process of making art is satisfying and now a necessity for me. (I completed another 100 Days of Shapemaking in August!)
Q:  What are your biggest influences?
A:  A lifetime of looking. My career as a visual designer and illustrator. Drawing and painting with Seattle artist and instructor Barbara Fugate.
Q:  Tell us something most people don't know about your process.
A:  Most of my work is created using digital tools. My expressive paintings are painted using an iPad, Apple Pencil and the Procreate app. I approach it just as if I was painting in oils or acrylics. The Shapemaking series is drawn using Adobe Illustrator, a tool that lets me have ultimate control over shapes. The process entails carving and molding shapes and negative space to create something out of nothing. The best are printed on archival paper in very limited editions.
Q:  Where would you like to go next?
A:  I'm beginning to collaborate with my husband, Tim Celeski, to create sculptural wall pieces. I see exciting things ahead!