Featured Artist – Gigi Godfrey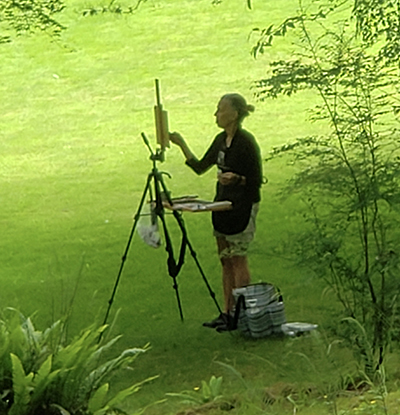 Q: Tell us a little about your art.
A: I enjoy painting with oil or gouache (opaque water-based paint). I like to paint from life, plein-air/outdoor landscapes, still-life set-ups, or even from photos.
Q:

Why did you start doing what you do?
A:  I have been intrigued by drawing and painting from a young age. I took art in high-school and found comfort in immersing myself in art. My life career was working as a registered nurse and raising two children, however I always found ways to have art in my life—through local workshops or classes at community colleges. I am grateful for the fact that once my children were in high school I had the opportunity to put more time and effort into painting.
Q:

What makes you different from others in your field.
A:  I have found a great camaraderie in the art community and feel that there is a common thread in passion, drive, dedication, and perseverance for many artists. We strive to find our own point of view and I think this can be seen in my art. I really can't put it into words, something with the brush strokes, textures, colors. I hope the viewer can sense the joy in my paintings that I feel when I paint.
Q:  What are your biggest influences?
A:  Many artists, art styles, and art teachers have influenced my work. I have a fondness for Van Gogh, John Singer Sargent, Sergei Bongart, and many current- day artists. I use Instagram to follow artists from all over the world, the talent and generosity of spirit is really amazing. There is so much inspiration.
Q:  What has changed since you've first started?
A:  Time and effort and practice pays off. I am finding my voice in art with the help from so many great sources. It has been a gratifying journey.
Q:  Tell us something most people don't know about your process.
A:  Maybe that I like to let the paint "talk"—a lot of my process is pushing the paint around, applying different pressures to the brush, thinning the paint, thickening the paint, putting one color next to another color, searching for and coaxing out little surprises along the way.
Q:  Does your work comment on current social or political issues?
A:  I never thought my art was a comment on social or political issues. However, art is fundamentally a product of our emotions. So, yes, on occasion these issues show through my art.
Q:  Where would you like to go next?
A:  I am truly content with the pace that I am going with my art. I continue to take workshops to grow as a painter, and I enjoy showing my work at local community venues. I treasure the connections made through art. A bit of advice I frequently tell my children is to "let it be". Follow your passion, do the work, and the answer will present itself.