Featured Artist – Errol Dow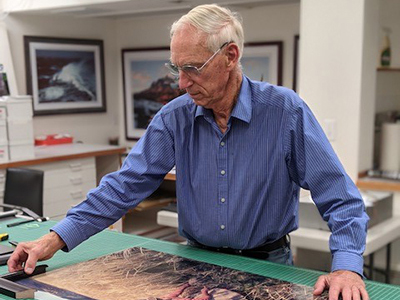 Q: Tell us a little about your art.
A: Through landscape photography, my focus with my art has been to create images that give a glimpse into the wonder of nature. I enjoy being able to capture what life is like around the world and here in the Pacific Northwest.
Q:

Why did you start doing what you do?
A:  I started taking photographs to be able to remember the places that I have traveled through my images. It has allowed me to reach back and tell the stories of places I have visited to my children, grandchldren, and great grandchildren.
Q:

What makes you different from others in your field.
A:  I have traveled extensively in areas of New Zealand, Australia/Tasmania, Central and South America. Closer to home, hiking in the mountains and boating along the coasts of Oregon, Washington, British Columbia and Alaska has given me access to some of the most remote reaches in our wondrous Pacific Northwest. During this time I have been able to create a collection of photographs that reflect a lifetime of adventures observing some of the most exquiste places on earth. I wish to share some of this beauty.
Q:  What has changed since you first started?
A:  In the 68 years I have been doing photography both the cameras and technology have changed. I have worked with film and print processing in a darkroom and now I am doing editing with digital media.
Q:  Tell us something most people don't know about your process.
A:  Instead of using glass, I have a laminate adhered to the surface of the image. It is very resistant to the sun's rays. It even can be washed with soap and water to free it from any dust or fingerprints. Because there is no glass, there is no glare.
Q:  Where would you like to go next?
A:  I would like to revisit Chile and Norway for another chance to capture some of their spectacular beauty.