Featured Artist – Debra Arend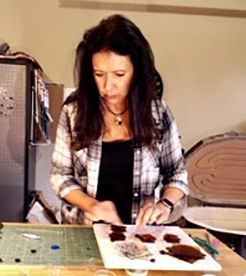 Q: Tell us a little about your art.
A: I am a fused glass artist. Fused glass is also known as warm glass, (heating glass slowly to its melting point in a kiln), where as Glass Blowing is know as Hot Glass, (heat the glass to its soft point, then manipulate by hand, blowing etc). In fused glass we cut and arrange the glass into a design, use the Kiln to melt the glass together, at that point, we may need to cut and arrange again, use coldworking techniques such as Tile Saw, Belt Sander, Grinders, Sand Blaster, to create additions or corrections to the glass, prior to refiring in the Kiln to achieve our final design as intented.
Q:

Why did you start doing what you do?
A:  I began learning Fused Glass techniques in 2018 at BARN. Since then I have learned from other artists at BARN and around the world. It has become my passion, and I enjoy creating beautiful art pieces for my clients homes and offices.
Q:

What makes you different from others in your field.
A:  Each artist has their unique approach to their art. Mine is fueled by my travels and nature. I am inspired by the environment around me, the art I've experienced around the world and the incredible fusion of glass melting into an amazing design. Although I like to think I have control over the glass, it really has control over me, sometimes it does have a mind of its own, and I accept the outcome.
Q:  What are your biggest influences?
A:  International Travel experiences.
Q:  What has changed since you've first started?
A:  I find the community of glass artists available via social media from around the world to be my greatest inspirational source this year.
Q:  Tell us something most people don't know about your process.
A:  It's a mixture of art, science, geometry, and math. Predicting how the glass will melt in the kiln and its ultimate design features. Sometimes it takes a few attempts to get it to look the way I desire, many times I accept the outcome as the way it was supposed to be. The multi-step process described earlier is a never ending source of inspiration, pride and accomplishment.
Q:  Does your work comment on current social or political issues?
Q:  Where would you like to go next?
A:  Develop my Water Sculptures, Tapestry and soon to add Squashed Glass Art pieces into Gallery installations.